Tobacco Agriculture

Tobacco farming is estimated to contribute 1% to SA's total farmworker labour force.

Tobacco farming has negative effects on the environment, farmworkers, and farmers themselves.
This page shows that, despite the tobacco industry's claims, agriculture is not a major source of employment in South Africa or economic development in rural communities, since tobacco farm labour has declined, primarily as a result of advances in mechanisation. Next, we discuss tobacco agriculture's harmful impact on the environment, particularly deforestation and the associated soil damage. Finally, we look at Malawi as an example of the tobacco industry exploiting vulnerable small-scale tobacco farmers.
To learn more about the data and methods used on this page click here.
In South Africa there are no reliable estimates of the number of farm workers employed in tobacco agriculture. However, the tobacco industry presents some figures whose origin is unknown. Since the tobacco industry has been shown to intentionally falsify data
Even using the tobacco industry's estimates, tobacco farming comprises only a small share of South Africa's total agricultural employment. In 2017, the tobacco industry reported employing 8,000 – 10,000 farm workers,

Fruits and vegetables (e.g. potatoes, oranges, grapes and apples) represented 35% of the agricultural workforce (268,740 fruit and vegetable farm workers).

Animal farming represented 21% of the agricultural workforce (162,116 animal farm workers).

Mixed farming (growing of crops combined with farming of animals) represented 25% of the agricultural workforce (185,863 mixed farming farm workers).

Agricultural services and fertiliser production represented 3% of the agricultural workforce (16,932 workers).
More government-sanctioned and independent research is needed on tobacco agriculture in South Africa. The figures above, as discussed, come from the tobacco industry, which is the only primary data source publicly available. The data could not be supplemented by the current Census of Commercial Agriculture in South Africa, since they do not collect sufficiently granular data on the kinds of field crops grown. Adding questions to the agricultural census or financing independent research could provide the much-needed data to fill this gap.
Tobacco-industry Funded Alliance Supports
Relatively Few Emerging Black Farmers
---
One of the primary South African groups purporting to support Black Farmers is the South Africa Tobacco Transformation Alliance (SATTA). SATTA is an umbrella interest group funded by British American Tobacco South Africa (BATSA) and includes the Black Tobacco Farmers Association (BTFA), Limpopo Tobacco Processors (LTP), and the Tobacco Producer Development Trust (TPD). SATTA states that it supports Black tobacco farmers with training, mentorship, and a market to sell their products 'in order to become self-sustained commercial farmers'.
Globally, farmers are exploring switching from growing tobacco to other more profitable crops, despite tobacco industry claims that there are no economically sustainable alternatives to tobacco for small-scale farmers.
In fact, the tobacco industry is often the main reason that switching crops is difficult.
---
Tobacco harms the environment by causing deforestation that threatens plant and animal biodiversity, as well as through leaching soil nutrients and spilling toxic pesticides and fertilisers into soil and water systems.
Ref 20

About 90% of tobacco agriculture in Africa occurs in the Miombo ecosystem, the world's largest contiguous area of tropical dry forests, that includes Tanzania, Malawi and Zimbabwe. Tobacco in this region is primarily grown by small-scale farmers who lack access to the technical knowledge and technology available to farmers in developed countries. As a result, these farmers tend to rely on clearing fertile virgin land to expand production. In the Miombo ecosystem, tobacco-related deforestation accounts for up to half of the total annual loss of forests and woodlands.

Tobacco farmers and producers refer to the drying of tobacco-leaf as 'curing'. A commonly used method is 'flue curing', which requires flue-curing barns that are heated by externally fed fire-boxes. Small-scale tobacco farmers typically supply these fire-boxes with wood cut from shrinking indigineous forests.

Deforestation is one of the largest contributors to carbon emissions and climate change, and loss of biodiversity is another serious consequence in countries in Central America, South America and Southern Africa.
The tobacco industry often presents tobacco farming as a lucrative economic endeavour for vulnerable smallholder farmers. However, tobacco farming is a challenging livelihood for most smallholder farmers in countries like Malawi.
Malawian farmers are often caught in unfair contractual agreements, earn little profit, and regularly need to pull their children out of school to provide additional farm labour. Meanwhile, executives of tobacco corporations take home huge salaries as these smallholder farmers struggle to survive.
Malawian Farmers in Financial Distress
After Signing Contracts with the Tobacco Industry
---
Malawian farmers struggle with cycles of debt and financial distress, and these are exacerbated by the tobacco industry. This pattern is also apparent in other African countries such as Zimbabwe and Kenya.

The tobacco industry encourages Malawian farmers to sign contracts under which tobacco corporations provide seeds, fertilizers and chemicals on credit, in return for farmers guaranteeing to sell the corporations their harvest at the end of the season. However, farmers who use this credit system have found themselves not adequately informed about the contract terms (such as interest rates and price guarantees), leaving them with much less profit than they had anticipated.
While contract farmers generally earn higher profits than independent farmers (see the graph below), contract farmers are at risk of falling into debt-bondage cycles due to the uneven bargaining relationship between them and the tobacco companies. When an unexpected negative event, such as drought occurs, farmers may fail to pay off their loan and end up taking on more debt with the tobacco company that is carried over into the next growing season. Although this arrangement exploits small-scale farmers, they continue to enter into these contracts due to scarcity of credit.

In addition to the debt-bondage cycle, farmers may be discouraged from breaking free of these contracts as independent farmers' tobacco may receive a lower grade or a lower price, and they may have their tobacco purchased only after that of the contract farmers.
Tobacco Farmers
Struggle With Low Profits
---

The figure compares farmers' average profit when the usually unreported household labour is included in the profit calculation versus when it is not. Each household member's labour is priced at the national rural minimum wage (in the 2013/14 season, approximately USD4 per day). With labour's inclusion, independent farmers' profitability on average becomes negative, while contract farmers' average profitability drops by nearly two-thirds.

This result shows that for many Malawian smallholder tobacco farmers, both independent and contracted, their perceived profits far exceed their actual profits (after they account for household labour costs). Independent farmers make average annual profits of USD417/acre and contract farmers average annual profits of USD630/acre. When we also account for the household labour costs, profits reduce to USD224/acre for contract farmers and an operating loss of USD37/acre for independent farmers. Given that Malawian farmers have small tracts of land allocated to growing tobacco (on average, 2.8 acres for contract farmers and 1.6 acres for independent farmers), the average overall profits that these farmers make each year place them below national poverty thresholds and are considerably less than average annual profits from crops such as soybeans ($644/acre).
Tobacco Industry
Benefitting From Child Labour
---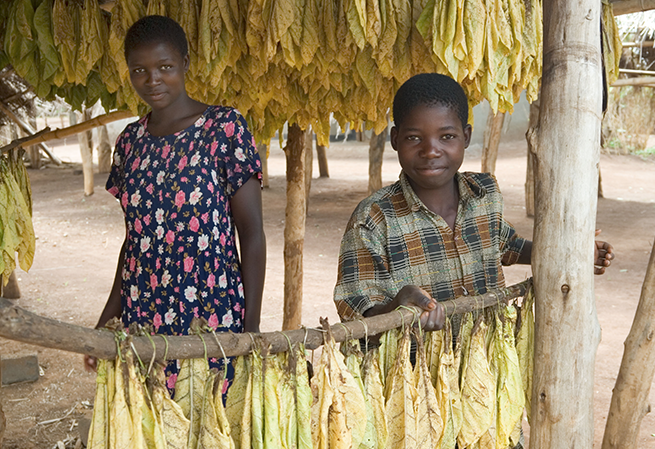 It has been estimated that over 80 000 children work as unpaid farm labourers in Malawi, which prevents these children from attending school and breaking out of the poverty cycle. Moreover, children are particularly prone to green tobacco sickness due to their relatively small size.
While children have been harmed by tobacco farming, tobacco corporations have benefitted from saving an estimated USD507 million through unpaid child labour from 2001-2014 from Malawi, Mozambique, Tanzania, Zimbabwe and Zambia.
Tobacco CEOs Earn Millions
While Farmers Struggle to Survive
---
Over the 2014 growing season, smallholder (independent and contracted) Malawian tobacco farmers made $170 in profit on average. This pales in comparison to the earnings of top tobacco industry executives.
Conclusion
While significant focus is placed on the harm produced by tobacco use on smokers' health, growing tobacco as a crop also has a negative impact on the environment and on the farmers who harvest the crop. Tobacco farming harms the environment through deforestation, soil leaching, and chemical runoff, while farmers are harmed through exposure to toxic chemicals and through unfavorable contract arrangements with tobacco companies. Moreover, despite tobacco industry claims, tobacco agriculture comprises only a very small portion of all agricultural jobs in South Africa.