Health Burden of Tobacco

In South Africa in 2016 there were almost 26,000 smoking-attributable deaths for smokers aged 35-75.

The tobacco industry is promoting e-cigarettes as a 'healthy' alternative but the long-term health impacts are still unknown.
This page presents research on the health burden of tobacco, including the estimated annual deaths in South Africa from tobacco-related causes and the cost of treating tobacco-related diseases in South Africa. Tobacco has negative health consequences and this page includes sections on the impact of smoking cigarettes, the impact of secondhand and thirdhand smoke, health conditions associated with farming tobacco, and the impact of using e-cigarettes.
Research on the relationship between tobacco use and COVID-19 is still developing.
To learn more about the data and methods used in this page click here.
Smoking can harm nearly all systems in the human body, and causes many diseases, including lung cancer, which is the leading cause of cancer deaths in South Africa.
Ailments
Caused by Smoking Cigarettes
---
---
Annual Deaths
from Smoking in South Africa
---
Using recent research published in South Africa
---
---
Deaths due to smoking in South Africa were predominantly caused by respiratory problems, heart disease and issues related to blood pressure, and cancers.
These figures underestimate the direct health burden to smokers because only those who have died from tobacco-related illnesses are counted. Those who are sick but still alive, or those who have been exposed to second-hand smoke are excluded.
Alternative research, which unfortunately did not state the sampling and research methodology making comparison with other research difficult, estimates the total annual deaths in South Africa attributable to smoking at 42 100 people


were admitted into hospital because of smoking-related diseases in 2016.
Tobacco-related illnesses cost the South African economy R42 billion in 2016. R28 billion of this cost is due to (a) illness-caused productivity losses and (b) the losses in potential earnings for those who died prematurely. The remaining R14 billion is due to direct healthcare costs. But the tobacco industry only paid R12 billion in excise taxes in the same year.
In other words, for every 1 rand the government receives from the tobacco industry, it spends more than three rands. In other words, the tobacco industry causes a net loss to the South African economy.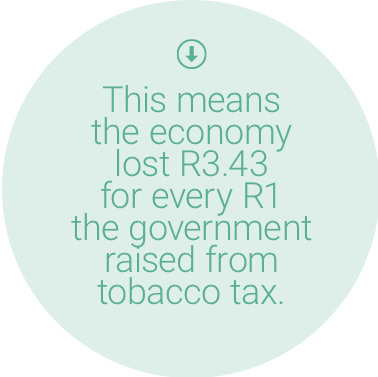 * These figures were calculated using average earnings in South Africa and taking unemployment rates into account. The R14 billion reflects approximately 4.1% of overall healthcare expenditure.
Exposure to secondhand smoke is responsible for the deaths of more than 880,000 individuals worldwide every year.
Secondhand smoke contains more than 7,000 chemicals, 70 of which can cause cancer, and hundreds more that are toxic. About half of secondhand smoke comes from the smouldering butt of a cigarette and the other half from exhaled smoke.

Myths
about Secondhand Smoke
---

Tobacco is a labour-intensive crop.
Read more on tobacco agriculture in South Africa.
Green tobacco sickness
Farm workers can protect themselves by wearing protective clothing, but they can still be at risk if their clothing becomes saturated with rain, dew or perspiration.

Green Tobacco Sickness
Exposure Symptoms
---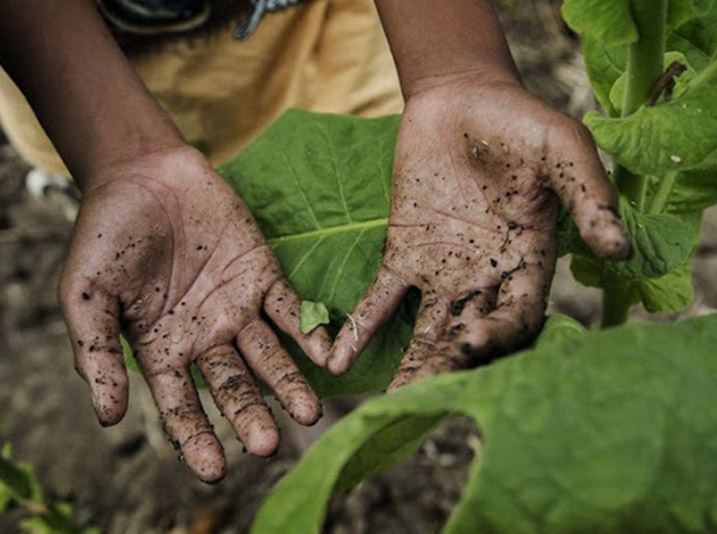 Symptoms appear within 1 day of exposure and will last between 1 and 3 days.
Common Symptoms:
• Nausea
• Vomiting
• Dizziness
• Headaches
Other Symptoms:
• Difficulty eating
• Difficulty sleeping
• Weakness
• Abdominal cramps
• Shortness of breath
• Fluctuations in blood pressure and heart rate
• Pallor (unhealthy/pale/ashy appearance)
• Diarrhoea
• Chills
• Increased perspiration and saliva

Myths
about Green Tobacco Sickness
---
There is a lack of research on green tobacco sickness in Africa. Symptoms are similar to those of other ailments faced by farm workers (e.g., heat exhaustion) and can be misdiagnosed. Even when farmers and farm workers are aware of green tobacco sickness, there is misinformation about the causes and how to prevent it.
E-cigarettes (electronic cigarettes) are devices that produce an inhaled aerosol by heating a liquid that contains a solvent, one or more flavourings, and usually nicotine. Although e-cigarettes deliver nicotine differently to conventional cigarettes, they are still harmful to users' health.

---